Empowering you to live your fullest life.
Supporting people in sculpting their personal journey to embody their highest path.
I have been a holistic healer, starting as a birth doula and labor and delivery nurse, for nearly 12 years. I welcome you to Hunab Ku Holistic Healing, my integrative emotional, energetic, physical and spiritual healing approach where I receive people that want to heal on any level and move forward or expand in their lives. I am also here support those on the awakening and expansion journey at any point along this path. I have also trained and practiced as a reiki master, crystal healer, ceremonial facilitator, intuitive channeled sound and energetic rebalancing, human gridwork activation and light language encoding, earth gridwork, domestic violence and sexual assault crisis counselor, and under numerous shaman and energy workers to bring energy medicine and holistic care to those I work with. You and your experiences are important to me.
As a healer, my role is to be a vessel, catalyst and energy midwife to help people release blockages, open channels and increase energy flow with balance so they can start to discover their whole self, feel more free or continue further on their spiritual journey. I am more than happy to answer questions and chat to discover what services would best serve you!
Energetic, spiritual and emotional holistic healing services
Often people come to me with a physical symptom. During our time together, I will help them work through alleviation of their physical discomfort and identify the emotional, mental or spiritual reasons underlying the issue. Our bodies and surroundings are in constant communication with us, though sometimes hearing the messages clearly can be challenging through the roar of daily modern life. Healers act as catalysts for energy shifts, facilitate the opening or closing of doors important to your vital essences and a bridge to places where your mental, physical and energetic messages are. Let's see what your energy and body are trying to say to you. Then let's work together to empower you to hear these messages for yourself.
Emotional and karmic blockages are also ways in which our highest path isn't able to manifest due to the resonance of our field and energetic communications. Working with a healer can again be a powerful catalyst to produce a needed shift and remove blockages, clarify our necessary changes and support us in our healing and expansion.
I try to help each person see themselves more clearly, discover and embody their authentic selves, and move forward into the world without pain, fears, or old limiting thought beliefs. People have been called to work with me for different reasons and you are unique in your story as well! I've helped people move through many issues, including:
Relationship Issues

Physical pain alleviation & other physical ailments (e.g., gastro troubles, IBS)

Fears & Anxieties

Depression

Processing heartache and emotional pain

Finding your authentic self

Emotional imbalances

Childhood trauma & other issues

Abuse

Clearing ancestral patterns

Burn-out, Workaholism & Boundary setting

Physical & emotional breakdowns

Activation of energy centers, clear away what is no longer needed, open new doors, and reconnect with themselves and the natural world.

Spiritual expansion

Awakening symptoms

Cosmic support for Starseeds
The purpose of this work is increased well-being and balance.
My services aim to empower my clients with the ability to navigate life with more clarity, confidence, creativity, focus and life force. I offer a variety of holistic services that can be offered individually or as a package, at a beautiful location in nature near Port Townsend, WA or remotely, including:
Reiki massage, Energy Healing & Reiki Training

Intuitive Holistic Healing

Chakra Balancing (Polarity Therapy)

Spiritual Counseling

Crystal Healing

Energetic Cleanses

Light Code Activations

Remote Healing

Soul Retrieval Inner-soul Work,

Gridwork

Shamanic Work

Journeying

Ceremony: Sweat Lodge Ceremonies, Life Transition Ceremonies and more

Conscious Birth Doula support

Women's Circles

Weekend Retreats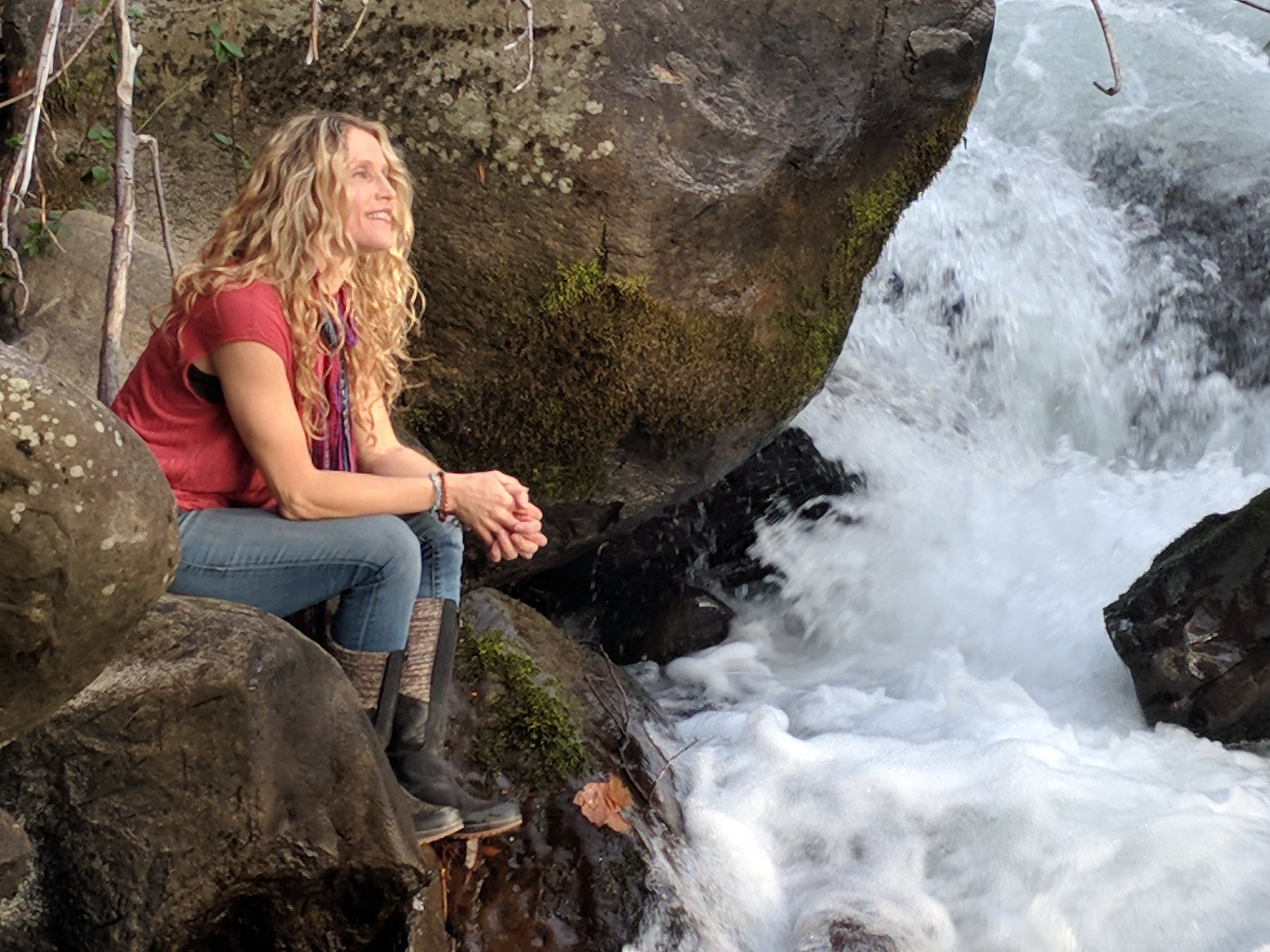 Offering holistic care so you can embody your authentic self!
I'm here to receive those that are called to move forward into their highest life path.
I have always been inspired to love and support people.
As a young child I knew my path was to support the healing process. This path has led me through multiple modalities. As a teenager I worked as a volunteer at a hospital and was drawn to caring for people at the bedside in a one-on-one manner. This type of individualized personal care was available in nursing work, so I went on to train as a nurse, after having been a birth doula. Working with the beautiful process of Birth had been a passion I deeply loved supporting, which led me to labor and delivery nursing. Energy work continued to call me in various ways throughout my life and I began moving further into energy healing, reiki, shamanic work and more. Some of the teachers I recently have worked with include Rosa Zupancic and Alan Waugh - Shamanic work (link). These roles and teachings have provided me with a depth of appreciation for the synergistic power, beauty and lessons that are intrinsic to life.
From early on I have felt and seen the energy in nature flowing through and between people and the connections around us. This inner knowing and visioning of forces that weren't explained to me as a child has led me on a lifelong process of discovery and ultimately led me into herbal studies, various cultural histories, medical science, and energy work and exploration of consciousness and existence.
I am no stranger to life challenges and can attest to the healing and transformational powers of energy work. Following an abusive relationship I was trained and worked as a domestic violence and sexual assault crisis advocate. Energy healing and shamanic work was central to my own healing process and the resilience, life force, balance, strength and peace I feel today. Through my experiences in various modalities that support the healing journey I feel that I am able to blend and personalize my approach to meet the comfort-level of people from diverse backgrounds.
I'm here to receive people with Love, Respect and Caring when you feel called to heal, expand and grow - trust your intuition to guide you.
Stories & Testimonials from clients
I try to help each client discover and embody their authentic selves. People have been called to work with me for different reasons and you are unique in your story as well!
"I've recently had the tremendous privilege of colliding with teacher, healer & visionary -- Robin Johnson -- at Burning Man. I was deeply stirred by this 'chance encounter'. In fact, I was so transformed by the energetics of her presence that I'm now removing that word from my vocabulary. I'm fully awake and aware that ALL Experience is by Divine Design. I'm profoundly grateful to call this alchemic powerhouse of spirit my soul siSTAR! In our time together, she reflected obfuscations & blindspots caused by intellectual games that mind (ego) loves to play in order to keep one in the comfort & safety of homeostasis. Robin is a living, breathing mirror, emissary of light & embodied steward of love. By reaching out to her, you are actually reaching into yourself/Source - Make the Connection. May you dissolve all limitations, inherited belief systems, and any conditioned programming, in order to trust, love & live in the wisdom of your heart <3"
- Brigitte Habel, Toronto, Ontario, Canada
"Robin is an incredible healer that seems to have an otherworldly intuition and understanding of the common challenges that humans struggle with. She has been a calm, nurturing, and compassionate guide to my own personal and spiritual journey. She has employed a range of approaches customized to fit my specific uniqueness as a human being, all while holding the space necessary for me to sit in, work through, and ultimately embrace the depths of my soul with grace, equanimity, and even joy. I have done sweat lodges, plant medicine, energy work, and somatic release with Robin, which has helped me break through recalcitrant trauma and triggers like the fear of abandonment, loneliness, and lack of self-love. Through it all, I realized that I am not alone, I am loved by many, and most importantly, I am loved by myself. That I can live my authentic selves, come from a place of love, and let go, because people and things will come into my life as a reflection of my true being. Thank you Robin, for changing my life in so many ways. Much love."
-Nicole Lim, San Francisco, California
"I have to admit that the idea of energy healing was very foreign to me. I would describe myself as a materialist scientist with a lot of skepticism about anything. But after working with Robin, I can only describe the outcome one way; pure and complete bliss. I can't tell you exactly what she did, or how she did it. All I can tell you is that it was a profound healing that felt like a kind of magic. I can't recommend her enough."
-Michael J. Parker, Washington D.C.
"Robin creates one of THE safest and most loving environments to fully let go and release! Not only can I physically feel energies shifting within me, come the end of our session I feel ten pounds lighter and full of peace. She walks you through various visions, past lives and intuitive messages that she may receive, which have always been spot on with what I'm going through. She also suggests life changing practices that anyone can incorporate daily to enrich their lives. With Robin's support I have come to better understand myself, my emotions and what my next steps are in healing. She's been there for me through very crucial moments and I truly don't know what I would have done without her help."
- Chrissy, Toronto, Ontario, Canada
"Robin is such a powerful and amazing individual and soul on this planet. As an energy worker she is extremely powerful, so much so that I could feel her presence working on me even from half way across the country! That's how profound of an experience I've had working with her. She has brought so much clarity and awareness into my life. After working with her I noticed that a lot of blockages I was experiencing in life had dispersed after she had opened up my energy channels that were stagnant for so long. Months after working together I have experienced many different revelations and healing moments that have come from the work she has done with me. Robin is a very compassionate and loving person and everything that she will do for you is made with intentions of the purest love. You will always be in safe hands when you are working with her."
- Justin, Toronto, Ontario, Canada
Let's sculpt a personal journey or package that works for you.
If you're curious to learn more about my services and work with me, I am more than happy to speak with you and craft a package of services that works for you. My calling is to support and facilitate healing in people, not to convince them of why the services I offer and energetic/spiritual healing in general work. Let's work together to help you release yourself from pain to move into purposeful, joyful and authentic living.
My practice is based near Port Townsend, WA
The energy and tranquility here is palpable, and has successfully called many healers to the area. The land where I do my work is truly vibrating with Earth's elemental forces. We have a private and tranquil spaces larger and smaller, surrounded by nature where we hold most of our services, though remote sessions are available for some modalities.
There has been a wealth of information made available in books, on the internet and video concerning the science and research of the "hows" and "whys" of all types of energy medicine. I feel others have been called to this service, the bridging of the gap in understanding from matter to energy. If you want more information about why energy healing works beyond this website, I can provide you with some suggestions of where to start, but feel free to follow your own intuition when looking into what feels right.
Disclaimer: I am a trainer healer in many modalities. Some are recognized by Western tradition, such as my nurse training, but other modalities, such as those for the energy and spirit are not of traditional Western methods. I do not prescribe medications and am not a Western trained, traditional doctor.